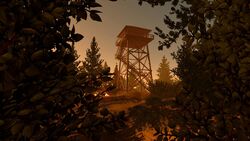 Two Forks Lookout is the lookout tower that Henry is assigned to. After two tough days of hiking, Henry finally managed to reach Two Forks. The player would most likely spend most of his time in the tower when not hiking around Shoshone National Forest. The tower was used by Ned Goodwin and Brian Goodwin for the previous summer. The tower was ransacked by the mysterious figure(later revealed to be Ned) when he knew Henry discovered Cave 452.
He has all necessities in this tower, including:
Two propane tanks
Multiple containers of Water
Sleeping Area/Sheets
Reading Lamp
Writing Utensils
Various Books
Typewriter
Other Items of Usefulness
Appearances
Edit
Most days begin with Henry in the Lookout Tower and ends with him returning to this lookout, prompting a loading screen.

The player can find Forrest Byrnes outside the lookout facing Cave 452.
The tower was designed by Jane Ng.
Ad blocker interference detected!
Wikia is a free-to-use site that makes money from advertising. We have a modified experience for viewers using ad blockers

Wikia is not accessible if you've made further modifications. Remove the custom ad blocker rule(s) and the page will load as expected.