Ned Goodwin is a character in the game, as well as father to Brian Goodwin.
He is the mysterious figure that shone light at Henry above the cliff after he discovered Cave 452. This was supported by the radio conversation between Ned and Henry on pre-ending scene.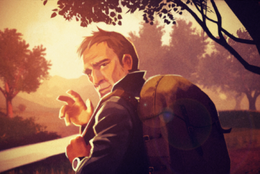 Ned is responsible for listening in on Henry and Delilah's conversation by tuning into the same wavelength as their radios. This is first discovered when Henry finds a clipboard with the list of the conversations the two of them had.
Ned is good with craft work.
It is noted by Delilah near the start of the game that he was a "PTSD'ed Asshole", you can find a secret hat in the game with the words 'Korean Veteran' on them in a supply cache. It is possible that he may or may not have fought in the Korean War, and thus received PTSD.
Ad blocker interference detected!
Wikia is a free-to-use site that makes money from advertising. We have a modified experience for viewers using ad blockers

Wikia is not accessible if you've made further modifications. Remove the custom ad blocker rule(s) and the page will load as expected.