"I don't think there's any fictional character I hate more than Forrest Byrnes" - Henry (determinant)
Forrest Byrnes
is a fictional character within the world of
Firewatch
, depicted on a two dimensional wooden cutout behind the outhouse at
Two Forks Lookout
.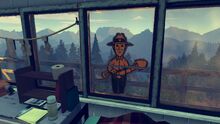 He is a character created by The Forest Service as a mascot, maybe to appeal to children, however many people, both players and characters in the game, react negatively, finding his appearance unpleasant, including Henry.
He is depicted using only the colour yellow, making him appear even more cartoonish, however his eyes are completely black, something that lends to his unpleasant appearance.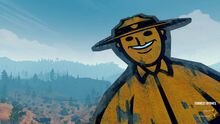 He is also depicted carrying a shovel.
Ad blocker interference detected!
Wikia is a free-to-use site that makes money from advertising. We have a modified experience for viewers using ad blockers

Wikia is not accessible if you've made further modifications. Remove the custom ad blocker rule(s) and the page will load as expected.