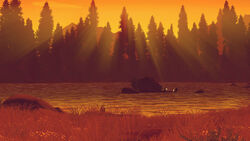 Chelsea Stevens and Lily McCalin are two drunk teenage girls who are found skinny dipping and setting off fireworks at Jonesy Lake on Day 1. Much to Henry's dislike, they're litter bugs, and leave their empty beer cans everywhere. When Henry finds them skinny dipping, they call him a creep, believing he's spying on them, and flee the scene. When their campsite is trashed (unknowingly to them by Ned Goodwin), they blame Henry and threaten to call the police. Soon after, Delilah calls Henry to inform him the two have gone missing. Many days later, the girls were found and arrested for joy riding when they stole someone's tractor.

Chelsea is voiced by Erin Yvette and Lily is voiced by Nicki Rapp.
References
Edit
↑ Developer's Commentary: Maintaining Scale In Level Design
↑ Post by Jane Ng on Campo Santo
↑ Female Base Mesh on BadKing
Ad blocker interference detected!
Wikia is a free-to-use site that makes money from advertising. We have a modified experience for viewers using ad blockers

Wikia is not accessible if you've made further modifications. Remove the custom ad blocker rule(s) and the page will load as expected.